Athletic babes rock the world.
Smokin' hot athletic babes rock the world like a horror picture show.
Click more 4 pics.
Smokin' hot athletic babes who nearly get naked deserve the highest level of rockin' like a hurricane.
1. BIA & BIANCA FERES
Twin sisters, Bia and Branca Feres are Brazilian synchronized swimmers.
They were Brazil's representatives in the 2007 Pan American games. Bia earned a spot on the 2008 Olympic team. Unfortunately, Branca did not make the cut.
Bia and Branca are both Pisces in case you ever meet them in a bar and want to try impressing them by guessing their astrological sign.
2. NATALIE WARD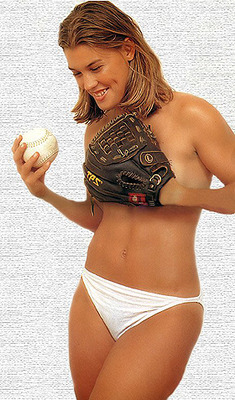 Natalie Ward is an Australian national softball player.
She has been an integral part of the last four medal teams for Australia.
Playing second and short, the team won the Bronze Medal in 1996, 2000, and 2008.
The Aussie's captured the silver in 2004.
On a personal note, she is gold.
3. DANICA PATRICK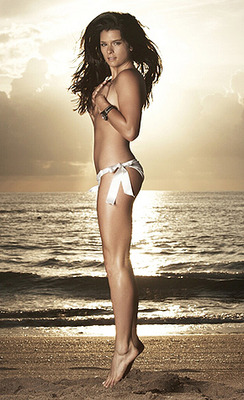 What "Nearly Naked Sports Babes" slide show would be complete without Indy and NASCAR driver Danica Patrick?
She made her Indianapolis 500 debut in 2005, and was only the fourth female in history to complete the race.
In the 2005 race, Danica became the first female to ever hold a lead in the race.
She finished third-place in 2009, a record for a female driver.
4. ANKA IVANOVIC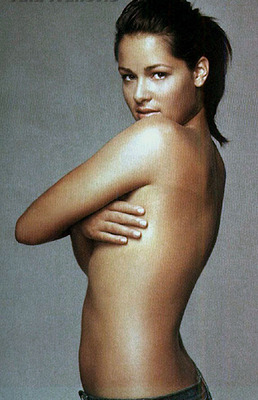 Noted for her aggressive style of play, stunning Serbian tennis star Ana Ivanović won the 2008 French Open.
On one occasion, she registered a 124.9 MPH serve.
It's been said that Ivanović's movement is her weakness.
It's safe to say that is a bloody lie created by tennis journalists who don't look this fine.
5. FRANCESCA PICCININI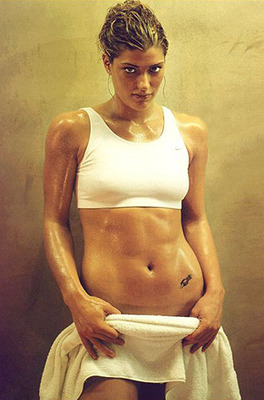 Francesca Piccinini is an Italian volleyball player.
She's been to the Olympics, never winning a medal.
She's won a bunch of other stuff though; World and European championships, and what not.
Most importantly, she appeared nude in an Italian men's magazine.
6. ERIN PHILLIPS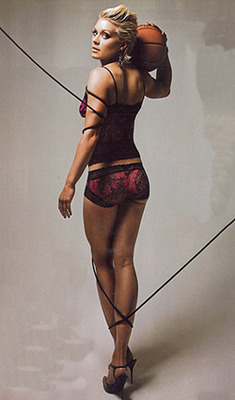 Another awesome Aussie, Erin Phillips, is a 5'7″ guard who plays for the Connecticut Sun in the WNBA.
Yeah, so what, she's not nearly naked. But, wow, she looks like a slam dunk full of fun!
On a sad note, her pop is a former Australian football player. And those cats are tough!
So if you are looking to date her it'd be smart to take dad a tote full of Vegemite sandwiches.
7. JAMIE SALÉ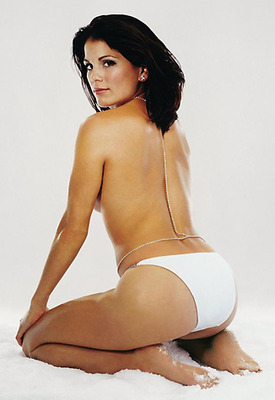 Jamie Salé is a Canadian pair figure skater.
She and her partner shared the Gold Medal with the Russian duo in the 2002 Winter Olympics.
Bad news: Her partner in the 2002 games was also her husband.
GOOD NEWS: In June of 2010, it was announced that she was dumping the bum and getting a divorce!
So any guys looking for a little rebound action need to book a flight to Edmonton immediately.
8. ANNA KOURNIKOVA
Like Danica Patrick, what "Nearly Naked Sports Babes" slide show would be complete without Russian Goddess Anna Kournikova?
She never won a singles Grand Slam. Never even got close really.
Kournikova did win two Australian Open doubles championships with partner Martina Hingis (a Czech cutie pie) in 1999 and 2002.
On another dad note, Anna's pop is a former Greco-Roman wrestling champ.
Not to worry though, he's back in Russia while she became an American citizen who currently resides in the Miami area.
After Googling a minimum of three times daily for the last eight years, her address is still unlisted.
9. AMY ACUFF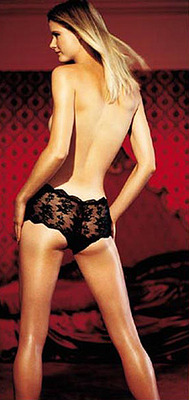 This tall drink of water is Amy Acuff, a Texas born Olympic high-jumper.
Her personal best jump is 6'7″ (2.01 m).
Acuff barely missed a medal, placing fourth in the 2004 games.
Most importantly, get out your dad's Playboy collection because she was the cover girl of 2004′s, "The Women of the Olympics" issue.
10. AMANDA BEARD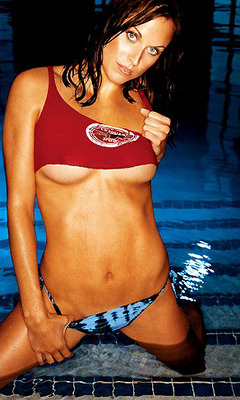 Amanda Beard is a seven time Olympic medalist; two golds, four silvers, and one bronze.